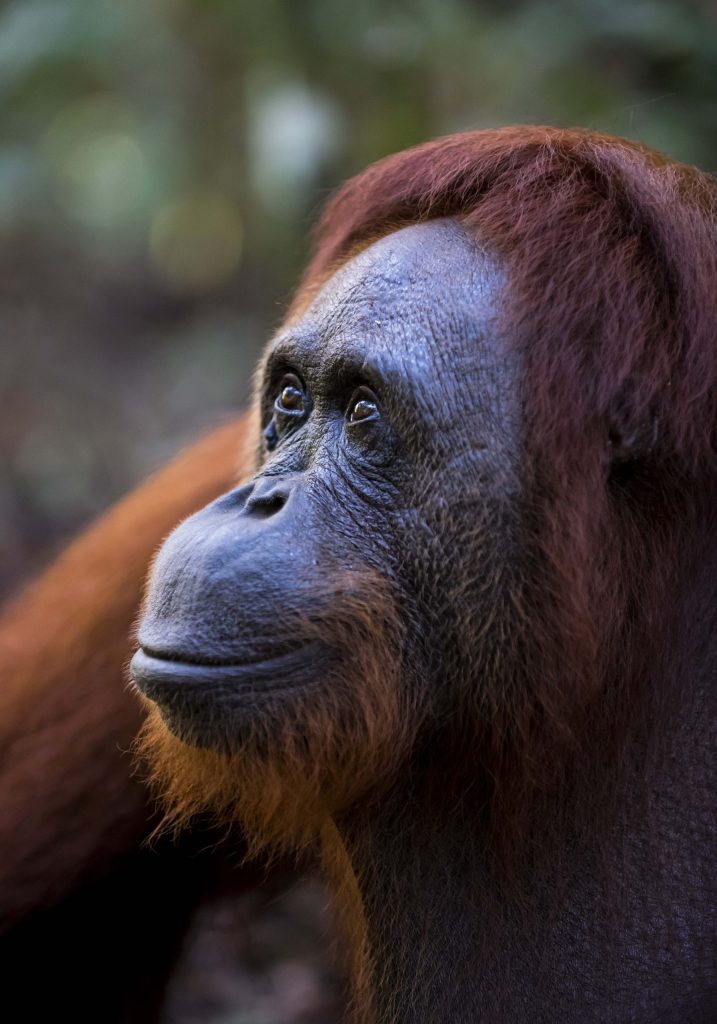 It is with a heavy heart that we share the news that Siswi, arguably Orangutan Foundation International's (OFI) most famous and beloved orangutan, passed away towards the end of 2021 after a short illness. Siswi was 43 years old and it was 43 years filled with as much drama, comedy and tragedy that any of us are likely to encounter in our lifetimes. Join us in reflecting and celebrating an orangutan who was truly one of a kind.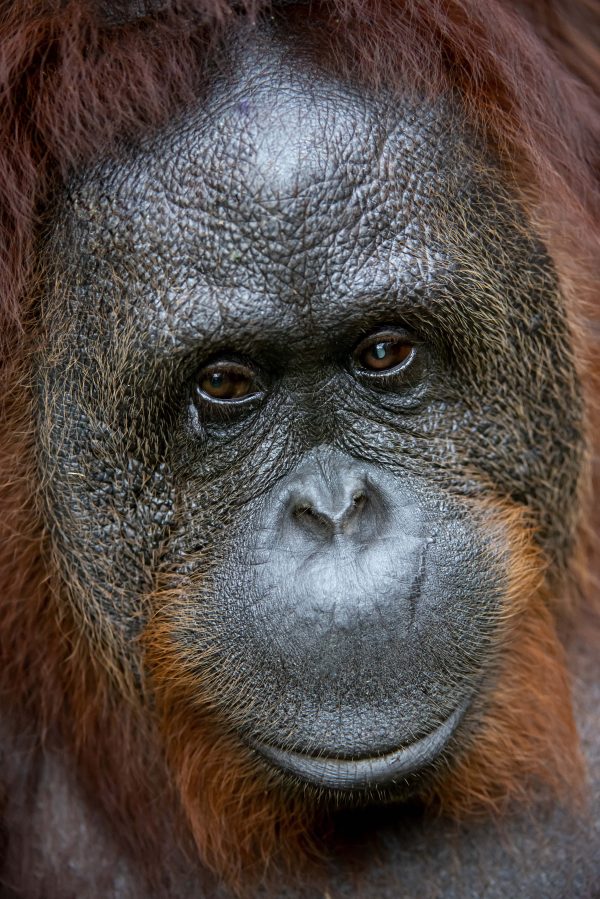 Almost everyone remembers their first meeting with Siswi. For many visitors to Camp Leakey, located in Tanjung Puting National Park, Siswi was first sighted as their boat landed. The local tour guides referred to Siswi as "the receptionist". This was due to her tendency to greet viitors from the shelter at the end of the dock. She often used this location for rest and relaxation. Everywhere was a potential bedding site for Siswi! The people from Camp Leakey themselves referred to Siswi as the camp "Ambassador". In fact, for many visitors Siswi became the ambassador for the orangutan species (all three species at once!) to humankind.

For many other visitors and volunteers, the first time they saw Siswi was at Dr. Galdikas's cabin. Siswi was often proceeded by an OFI assistant rushing up to inform everyone that Siswi was coming. Siswi always enjoyed catching up with Dr. Galdikas. Siswi happily sat on the porch while Dr Galdikas talked to staff and reviewed data. Of course, for Dr. Galdikas her first memory of Siswi was as a tiny baby shortly after her birth.
Siswi was one of the most famous orangutans, if not the most famous to ever walk and swing through Camp Leakey. Even her birth was an occasion. She was the first surviving infant born to an ex-captive orangutan at Camp Leakey. She was born on September 9th 1978 to Siswoyo, named after Ibu Siswoyo, the wife of a high-ranking Forestry Department official. Dr. Galdikas had rescued orangutan Siswoyo, at the time an older adolescent female, and had become close friends with her. It was an unusual, but sometimes common, sight to see the three of them together. Siswi clung to her mother Siswoyo who, in turn, hung on Dr. Galdikas's back as she tried to go about her daily duties.
Overtime Siswi asserted herself as the dominant female in Camp Leakey. This was her domain but she regularly journeyed into the forest on a walkabout. Siswi was a placid and intelligent great ape. She was also happy to hog the spotlight at any given moment. Siswi displayed a knack for imitation. She sometimes used a broom to sweep, a stolen toothbrush to clean her teeth and a paintbrush left momentarily abandonned in a can of paint to paint. She clearly liked to imitate human actions with any human tool she was able to get her hands on.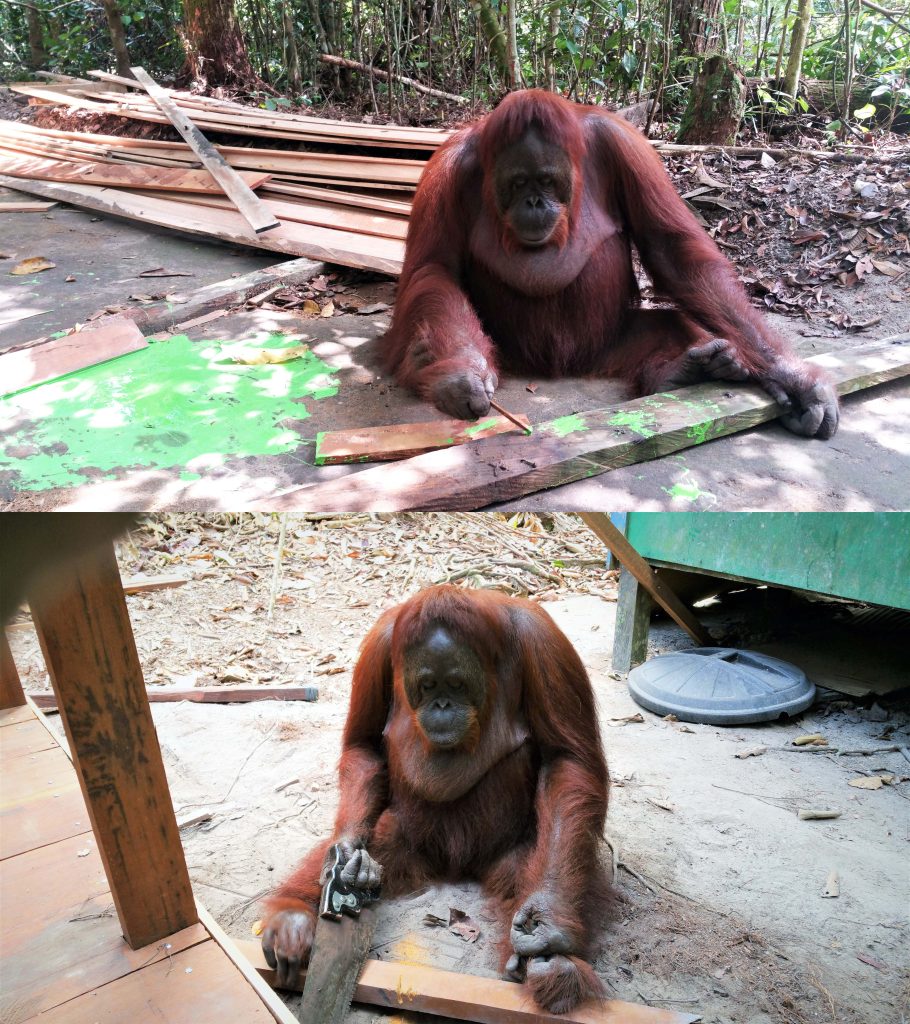 In another first, she was one of the only orangutans somewhat tolerated if she entered the food storeroom where she took her pick of the fruit.The staff found it very hard to persuade her to leave until she was done. Siswi only took what she needed but she always made sure she got the best. Somewhat unsurprisingly, Siswi was even known to sleep in the storeroom overnight if she fancied a change from a nest in the trees. With no one looking, she would break through the roof at night to get inside.
Life was not always easy for Siswi. Siswi enjoyed consorting with the dominant flanged (cheekpadded) adult males of the time at Camp Leakey such as Kusasi and Tom. Unfortunately, Siswi had suffered from a life-threatening infection which left her unable to produce any more offspring after the first few of which only one survived. She had suffered a perforated intestine. We sent someone from Camp Leakey to get a veterinarian from the Singapore Zoo. The veterianarian flew in and performed an operation but predicted Siswi was unlikely to live. Apparently, Siswi's intestine had been perforated for weeks by the time the vet arrived and sewed the hole closed. OFI and Dr. Galdikas will always be grateful to the Singapore Zoo for allowing one of their vets to come and save Siswi's life.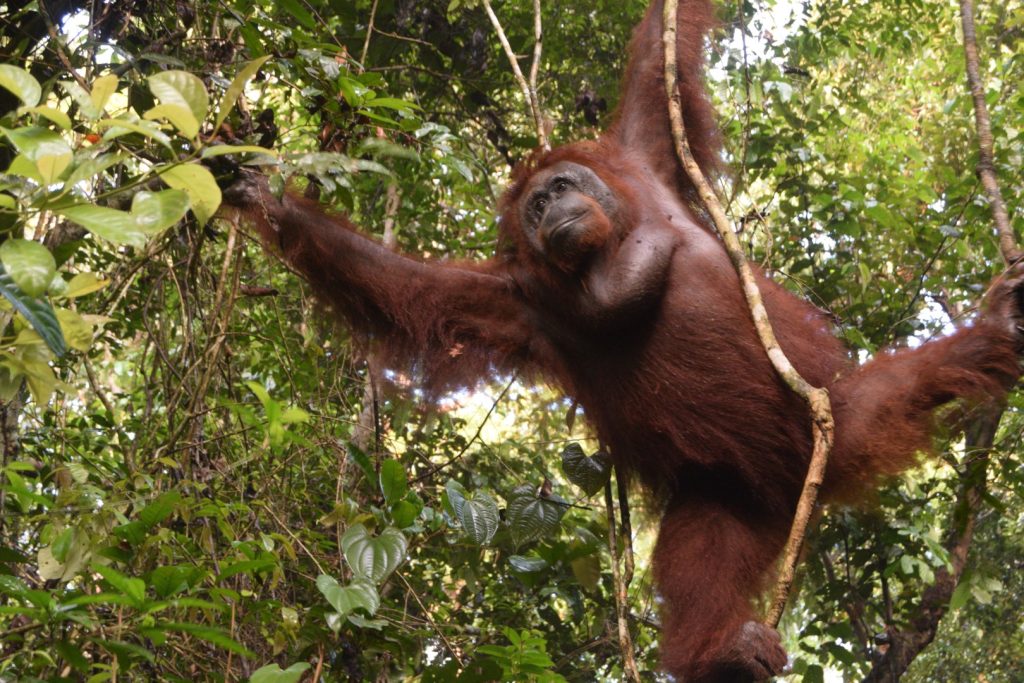 Some years later, Tom, who became the dominant male, was never particularly interested in Siswi and once chased her away. Camp staff noticed a change in Siswi following this incident. Nobody likes to be rejected, human or orangutan. As a possible result of this rejection, Siswi seemed to harbour some jealousy towards other female orangutans. It wasn't just a matter of age. Tom liked to mate with orangutan females much older than Siswi.
She seemed destined for fame. Siswi was front and centre of the 2011 IMAX documentary "Born to Be Wild." She and Dr. Galdikas shared the screen in touching moments showing the two happily together.

Also, BBC documentaries that focus on the orangutans of Borneo often have Siswi in them. Most notably was her starring role in an episode of the 2017 BBC documentary "Spy in the Wild." In the documentary an animatronic camera disguised as an orangutan was placed at Camp Leakey. Siswi definitely takes pride in her work and was happy to be filmed displaying the orangutan knack for using tools. In this case it was a handsaw which she used to cut a branch. Filming continued and saw Siswi and "Spy Orangutan" go head-to-head to see who could cut wood the fastest! Not one to be upstaged, Siswi displayed her talents for mimicry and competitiveness showing the world what a free-ranging wildborn orangutan is capable of achieving. This hilarious clip can be found on the BBC's YouTube channel.

Siswi was her own orangutan and she lived life without any compromises. She was the beating heart of Camp Leakey and it will not be the same with her gone. The world seems a little less bright without her.

Anyone who ever encountered Siswi has their own recollection of her. We would love to hear from you. Please feel free to leave any fond memories you have of Siswi in the comments below.