What constitutes intelligence? Some researchers believe that intelligence may be indicated by the following traits:
use of language
use of tools
ability to imitate and teach each other
self-awareness
ability to plan
ability to deceive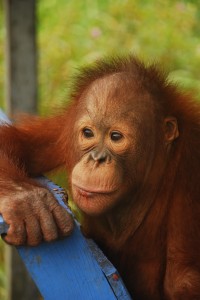 After decades spent in the field, up close and personal with these wonderful primates, Dr. Galdikas has no doubt that orangutans are highly intelligent. She has pointed out that orangutans are excellent nest builders and can build their night nests in as little time as 5 minutes. They choose branches which they know can support their body weight. Often orangutan infants will watch as their mother makes a night nest. Young orangutans begin nest building with their mothers at an early age. These initial nests are usually play-nests in that orangutan youngsters will make these nests, play or rest in them for a short while during the day, but never use them at night when they share their mother's nest. After much practice with play nests, by the time that orangutan youngsters are old enough to leave their mother's night nest, they are proficient nest builders.
More: Read more about orangutan behaviour here.
There is little doubt that orangutans, like the other great ape species, are among the smartest of all non-human animals who ever evolved on land.
Leipzig Zoo conducted a study, in which orangutans were the first nonhuman species documented to use 'calculated reciprocity.' The orangutans involved in this 2008 study, demonstrated that they weighed the costs and benefits of gift exchanges. These individual orangutans also kept track of their gift exchanges over time (i.e. they knew who owed what). Dr. Galdikas was the first primatologist to note the use of tools by orangutans. She observed an old orangutan using a branch that he broke in half to scratch himself. Since then, orangutans have been seen using twigs to reach into the hollows of trees, to reach insects, as well as for seed extraction. Tools have even been used in acoustic communication. Orangutans use leaves to increase the volume of the kiss squeak sound that they make when they are annoyed. This amplification of sound may suggest, to the source of their displeasure, that they are larger than they are. This indicates that orangutans can deceive, as well as use tools.
Dr. Gary Shapiro conducted the only sign language study with orangutans (or any of the great apes) in their natural environment. As Dr. Galdikas' first North American graduate student, he home-reared "Princess" (i.e. a juvenile female orangutan) in Camp Leakey and successfully taught her 40 signs over a two year period. It is generally agreed that orangutans can learn language and communicate in meaningful ways. A captive male orangutan named "Chantek," who had been taught sign language by Dr.Lyn Miles, sometimes simultaneously signed with both his hands and his feet!
More: Read more about the orangutan's diet here.
Orangutans are the most arboreal of the great apes. Their large bodies travel through tree canopies at heights that could cause their deaths if they misjudged the strength of the branches on which they move. Orangutans must plan their routes to move from one tree to the next. They must remember where fruit trees are located, when these trees have ripe fruit, and the canopy routes to chosen destinations. This requires some route planning and extensive retention of geographical details on the part of each orangutan since orangutans are primarily solitary or semi-solitary.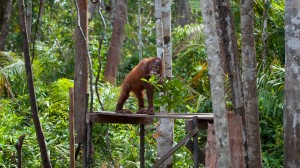 The signing captive orangutan male in the United States, Chantek, used to steal food from researcher Lyn Miles' pockets while simultaneously pulling her hand in the opposite direction to get her attention away from the pocket of interest. Mmm, the ancient art of pick-pocketing and deception may go back a long way in pongid evolution as well as human evolution!
Self-awareness suggests intelligence because the individual recognizes his or her own physical presence. This awareness may indicate that the individual sees himself or herself as a separate entity within the environment. This in turn, influences how the individual will interact with others. Researchers often use mirrors to test an animal's self-awareness. Orangutans, like humans and the other great apes, recognize themselves. Other animals, such as dogs and monkeys, generally do not.
There is little doubt that orangutans, like the other great ape species, are among the smartest of all non-human animals who ever evolved on land.