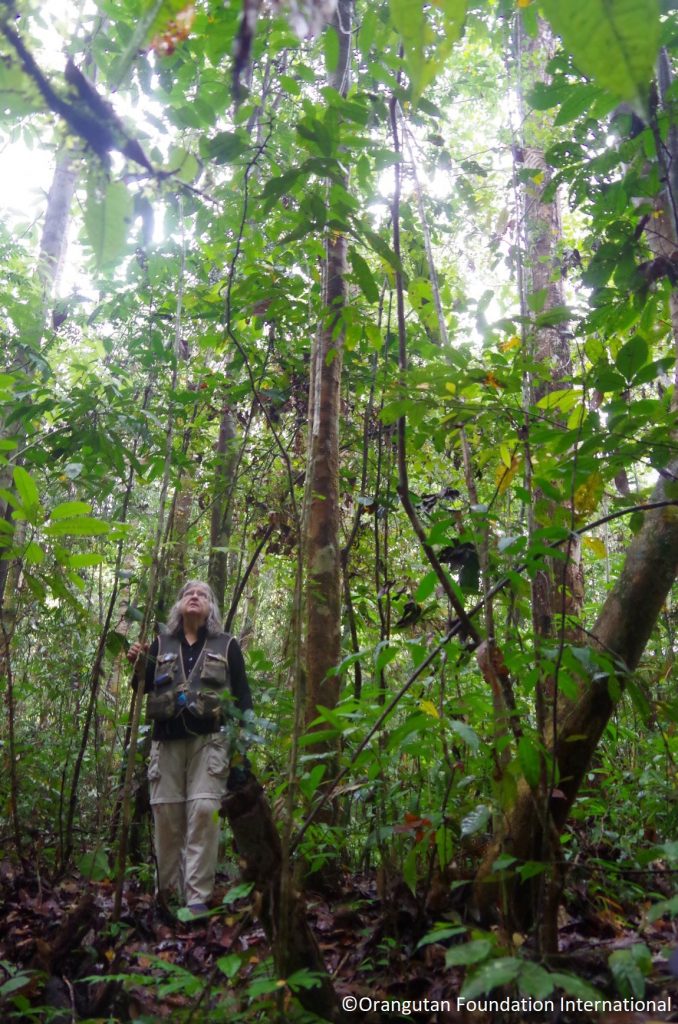 Alongside orangutan research and rehabilitation, Dr. Galdikas and OFI directly conserve orangutan rainforest habitat by protecting local forests that are under threat of annihilation.
Donate to our Forest Protection Campaign Here
Over the decades of our conservation work in Borneo, and especially in recent years, it has become evident that habitat protection is the cornerstone of effective long-term protection of orangutans. These tree-dwelling apes depend on healthy, mature forests with abundant fruit and other food sources to sustain their large bodies and long lives. While Tanjung Puting National Park and Lamandau Wildlife Reserve have been invaluable in providing release sites for rehabilitated orangutans, they will eventually reach their carrying capacity. Since the natural habitat surrounding these parks is shrinking every year due to the combined effects of palm oil plantations, timber estates, urban sprawl, and fires, it is crucial that we protect the remaining patches of rainforest for orangutans and other wildlife.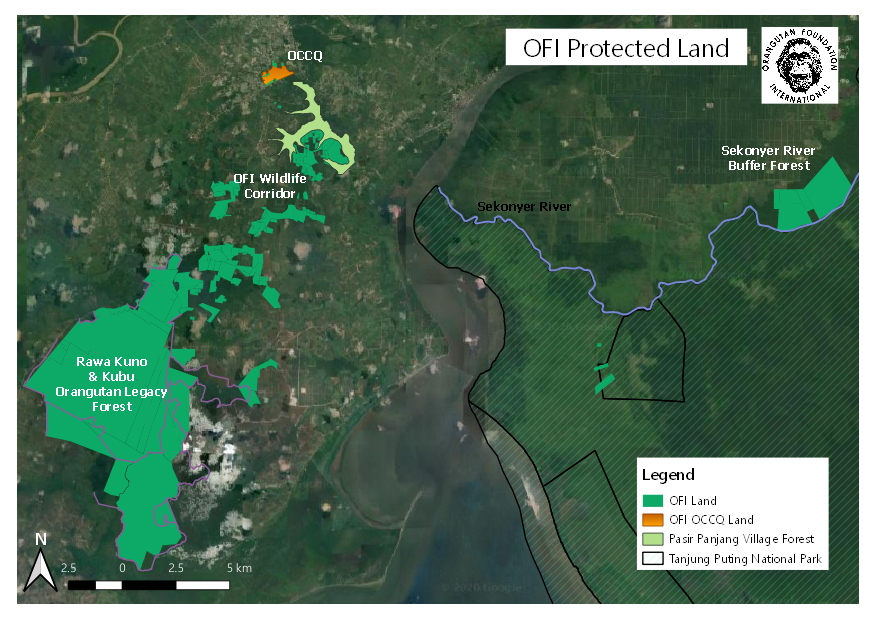 This realization has given rise to our Forest Protection program. As part of our conservation vision, OFI works to provide protection and gain stewardship rights for forest as potential sites for the daily or permanent release of wild born ex-captive orangutans, as well as to protect remnant wild orangutan populations.
Given the orangutans' wide-ranging habits, larger pieces of rainforest afford more protection and are our priority. However, small patches of forest can be very biodiverse and provide refuge to countless plants and fungi, insects, birds, reptiles, amphibians, and even mammals. Studies have shown over and over that every acre of tropical rainforest is biologically rich and valuable (Turner and Corlett 1996, Wunderle 1997, Hernandez-Ruedas et al. 2014). Given the importance of habitat connectedness, we are particularly focused on protecting corridors of jungle that can connect formally protected areas and give animals a chance to move safely across the landscape.
Most of the parcels protected are in partnership with local indigenous individuals or families, though we have also protected some larger parcels from village co-operatives. The locals are often reluctant to sell parts of their land, but the income it generates helps pay for investments such as building permanent homes or sending children to school or university. Many would prefer to see their land protected by OFI rather than palm oil developers because they know we will work to maintain and improve the land's ecological condition.
Protecting our investment
One important lesson we have learned in this last decade, where we have been intensively focused on land-based conservation, is that simply purchasing the land is not enough. While it may keep an area of forest from being immediately converted to a palm oil plantation by a large company, this forest remains very vulnerable to other threats, such as small-scale slash-and burn activities by local residents, illegal logging, and poaching. As such, we have started taking a more hands-on approach to the land that we purchase, and ensuring that the Orangutan Foundation International has a visible presence on the land: we build guard posts and hire staff to patrol the area to ensure it indeed functions as a long-term wildlife refuge. 
Fire prevention and fire fighting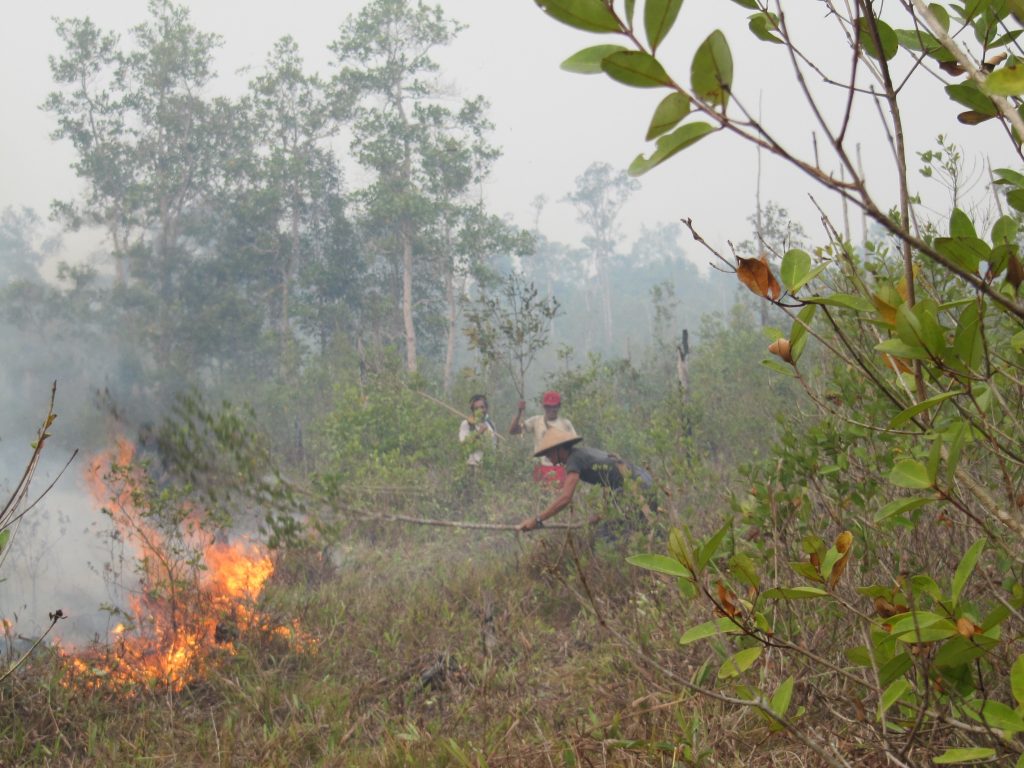 Fires have become a near yearly reliable phenomenon in Borneo. The recent years' extreme events have resulted in millions of hectares of orangutan habitat being destroyed. More close to home OFI has battled fires in and around our protected areas and release camps and forests. These efforts often involve reassigning OFI staff from patrolling and even orangutan care to teams of front line fire fighting. Our brave staff use local traditional methods to cut fire breaks in the peat swamp forest to stop fires from spreading. Long lengths of hose are carried into remote areas to douse fires deep within the peat which often smolder until a propper rain comes. Our forest protection fund goes towards providing personal protective gear, fire fighting equipment, and transport for these teams as well as funding extra patrolling during fire season to prevent fires from entering our areas.

Regrowing the forest
Also, due to the devastating wildfires that have become more frequent in Borneo (most notably in 2015), we have lost large areas of forest to the flames. To restore ecological health to these areas and make them more attractive to orangutans and other wildlife species, we have launched an ambitious reforestation initiative. To date, we have planted over 480,000 native tree seedlings in areas ravaged by wildfires and other causes of forest degradation. Our seedlings are showing high rates of survival and we are very hopeful about regrowing the forest. Together with our guard and patrol posts and firefighting, these activities constitute a very important part of our 'Forest Protection' program.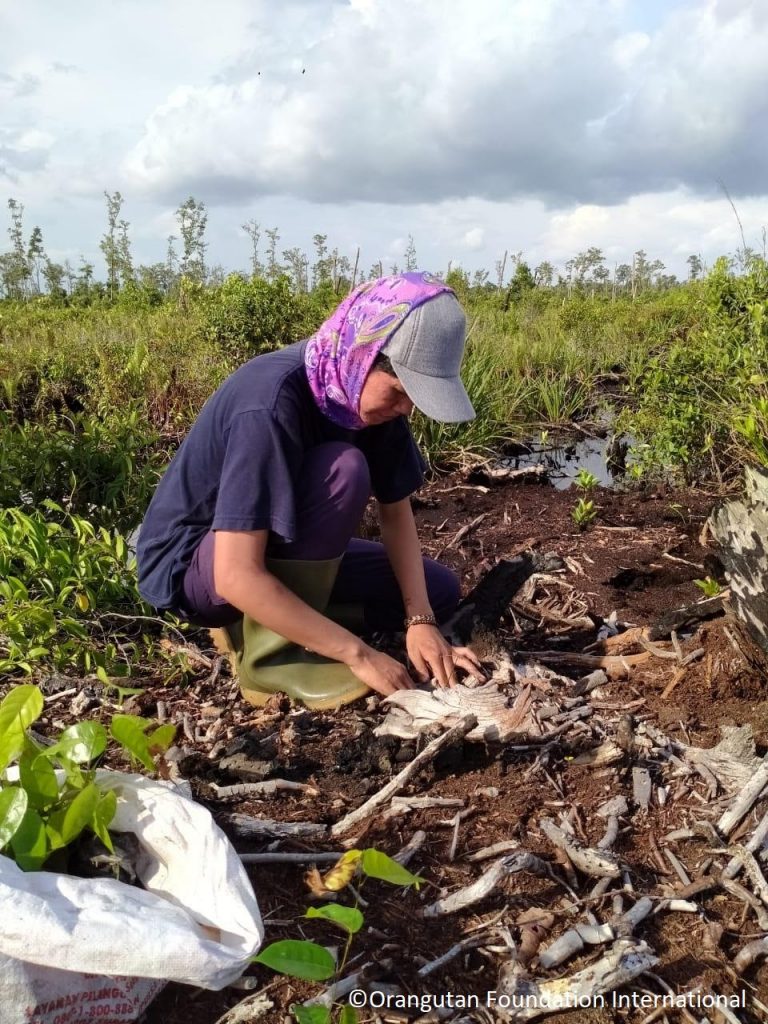 References:
Turner, I. M., & Corlett, R. T. (1996). The conservation value of small, isolated fragments of lowland tropical rain forest. Trends in ecology & evolution, 11(8), 330-333.
Wunderle Jr, J. M. (1997). The role of animal seed dispersal in accelerating native forest regeneration on degraded tropical lands. Forest Ecology and Management, 99(1-2), 223-235.
Hernández-Ruedas, M. A., Arroyo-Rodríguez, V., Meave, J. A., Martínez-Ramos, M., Ibarra-Manriquez, G., Martínez, E., … & Santos, B. A. (2014). Conserving tropical tree diversity and forest structure: the value of small rainforest patches in moderately-managed landscapes. PloS one, 9(6), e98931.