This spring OFICanada has been delighted to spread the word about orangutans with several schools in the greater Vancouver area. These outreach events began at Kwayhkwitlum Middle School and involved a Movie Night in collaboration with the Me to We – Vancouver Youth program. At this after school event, students from grades 6 to 9 came out to see an orangutan-focused presentation by OFICanada Board members, and then watched "Born to be Wild" – the IMAX 3D film about OFIC's president, Dr. Biruté Mary Galdikas.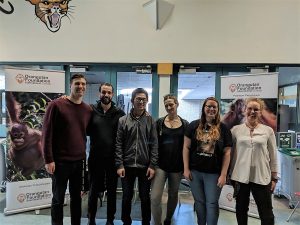 This event was inspired and led by former OFI Field Volunteer and youth worker, Corrie Archer, whose clear passion for conservation, education, and the orangutans has touched her entire school and beyond. During the evening students asked questions, played a game learning how to check products for palm oil, and heard first-hand stories about our orange cousins and their rainforest home from Corrie and OFICanada board members and volunteers.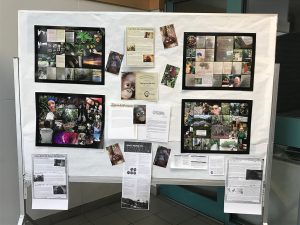 OFICanada thanks Corrie immensely for planning this fundraiser, where students contributed through concession purchases, and for allowing us to spread our knowledge and passion for orangutans to the youth of Port Coquitlam!
Thanks also to Corrie, OFICanada was invited to nearby Glen Elementary School by Barbara Inkster to share our work with students participating in their month-long Run For The Rainforest fundraising campaign. This incredible group of elementary students spent an entire month learning and teaching each other about rainforest animals and their conservation. After inviting OFICanada to present about our work with orangutans and in Borneo, the school participated in events throughout the month; these events included viewing "Born to Be Wild" in classrooms, raising funds with "wear your PJ's to school day" and of course the big day, where the entire school [Ran] for The Rainforest, after a touching ceremony. This event was incredibly successful and raised over one thousand dollars! We are so pleased to have been able to participate in this enthusiastic, school-wide pledge to help tropical wildlife, including orangutans. Thank you, Madame Inkster, and all of Glen Elementary!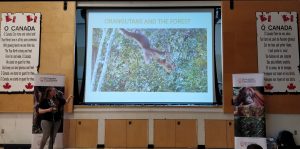 Education and outreach are such an important part of our work, and it is so rewarding for us to give people even a glimpse into the mysterious, fascinating and endangered world of orangutans. If you are part of a school or community group who would like to request a presentation, 'Born to be Wild' screening, or another form of engagement, please don't hesitate to contact us at orangutan.canada@gmail.com.