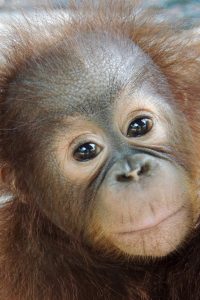 Orangutan Foundation International Canada is excited to introduce our newest addition to our Foster Orangutan program. This little orangutan was named in honor of Canada's new Prime Minister, Mr. Justin Trudeau. The story of Trudeau, who arrived at the OCCQ right around the time of Canada's federal election in the fall (2015), has sadly become a typical one for many of the orphans in our care. However, little Trudeau's incredible recovery, and our joy at discovering this infant orangutan's bright personality, has inspired OFI and OFI Canada president Dr. Birute Mary Galdikas to bestow upon him the hopeful name of our similarly inspiring new Prime Minister.
When little Trudeau arrived at the OCCQ he was very weak, dehydrated, and most frighteningly, had a large bruise and swollen area around his right eye. He was listless and it was immediately apparent he had very little ability to move his left hand and leg. The disability, on the opposite side of the body to his obviously traumatized head, was a clear sign of internal bruising in his brain. He was immediately put into intensive care at the OCCQ medical facility. Head trauma in orphan infant orangutans is extremely common, as they invariably cling to their mothers as they are attacked and fall, but is also extremely dangerous, since there is little our medical team can do to treat it without prohibitively expensive machines, which are unavailable in Kalimantan.
 However, little Trudeau responded well to intravenous fluids and within a few days was already more active, although still limited in his ability to move his left side. After his quarantine stay in treatment at the medical facility, Trudeau was moved to the infant nursery. In this nurturing environment, he entered into the care of the dedicated care givers, who regularly worked with Trudeau to help him gain function back in his left arm and leg through therapy.
Now, more than a year later, Trudeau is almost unrecognizable as the traumatized orphan he was upon arrival, and is indisputably a little orangutan with a big personality! This little orangutan most definitely lives up to his namesake's reputation for being charming and handsome! Trudeau charms humans and orangutans on the spot.  He is an energetic infant orangutan and has regained the use of his left arm and leg, allowing him to grab, climb and hang just like other hairy orange babies his age. His caregivers unanimously describe him as 'active' and whether outside in the nursery playground forest, or inside the nursery buildings, Trudeau is always on the move. In fact, whilst the rest of his peers are having an afternoon nap, Trudeau refuses to sleep and instead spends his time crawling around from caregiver to caregiver, seeking attention. Trudeau loves to spend time with his caregivers, playing or just having a reassuring cuddle. However, he also loves to play with the other infant orangutans and is now strong enough to play-fight with his friends. When in the infant playground, Trudeau is not scared to strike out on his own – he can often be spotted climbing trees and swinging from lianas, gazing out into the forest. This is not to say that Trudeau is not a social orangutan. If Trudeau spots one of his friends nearby he will make a beeline for them to play.
Trudeau is an energetic yet thoughtful orangutan, and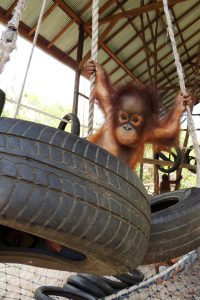 you only need to gaze into his eyes for a moment to see both the trauma of his past and his hopes for the future reflected in them. Still only an infant, Trudeau has many years before he can be released back into the wild. But sometimes, it almost seems like Trudeau knows that time will come, one day. As he gazes into the forest from the infant playground, you can imagine that he is gazing into his future, secure in the comfort that for now, he is safe and loved by his family at the OCCQ.
We at OFI Canada are pleased at little Trudeau's recovery and continued progression. We are proud to support the nursery facility at the OCCQ and hope you will consider joining us in trying to provide a future for Trudeau and the other orphans at the OCCQ, a future that we Canadians hold dear: True, Strong and Free!
Please consider fostering Trudeau or one of our other orphan orangutans today.