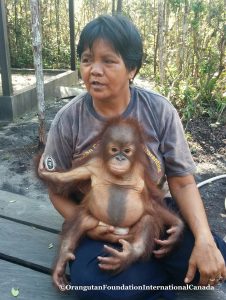 A part of the important work that OFI Canada supports is the rescue and rehabilitation of orphan orangutans at the Orangutan Care Center and Quarantine (OCCQ). 
The OCCQ is a special place where orangutan orphans are nurtured until ready to be reintroduced into the wild. Located in Borneo, Indonesia, the center currently cares for more than 300 orangutans and new orphans are received monthly. Orangutan mothers provide around-the clock care for their young for the first six to eight years of life. The orphans at the OCCQ also require constant attention, care and support. Many of them come to the center traumatized, sick, injured and malnourished. Young infants and any that are ailing spend 24- hours a day with a caregiver.
LOOKING FOR A MEANINGFUL GIFT THIS HOLIDAY SEASON?
Become a foster parent or give the gift of becoming a foster parent to an orphan orangutan at the OCCQ and help ensure that every animal receives the medical, dietary and emotional care they need to thrive.
As a foster parent you will receive a packet about your foster orangutan: biographical information, a frameable certificate, photographs and up-to date information on their progress every 6 months.
You have the option to receive a "keepsake" physical copy mailed to your door or a "print-at home" kit emailed to you.
Help us to ensure your gift is received in time for Christmas. Shipping deadlines are as follows:
Friday December 15 : Last day to order 'keepsake" physical kits mailing within Canada.
Friday December  22 : Last day to order "print at home" e-kits