My name is Sarah and I am from Montreal, Canada. I studied Biology in University and am passionate about conservation. Two months ago, I never would have guessed that I would be in a position to write this short article. When I first saw the posting for an intern position for Orangutan Foundation International, I simply had to apply. What an opportunity! After I submitted my materials, I did not expect to hear back. Neither did I ever imagine I would pass the four stages of interviews and ultimately get the position. Everything went really fast after that as I had to get ready for a year in Indonesia in a little over two weeks.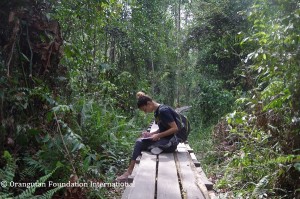 I have now been at the Orangutan Foundation International Care Centre and Quarantine one week and it went by in a flash. I flew out of Jakarta last Sunday afternoon inbound for Pangkalan Bun. As we were nearing Borneo, it became evident that the smoke from the forest fires below would not allow us to land at our desired destination. Forest fires have been raging here in Indonesia for almost three months, burning the already threatened orangutan habitat. Unfortunately, with an estimated two months left until the dry season, there appears to be little relief in sight. OFI field staff have to fight the flames with the means available to them and hope for the rains to come early. That often means dragging hoses over a kilometer in order to reach the flames.
This dense layer of smoke was my introduction to the third largest island in the world. It is over this thick smoke that we flew to Banjarmasin, in the province of South Kalimantan. There, the visibility was better allowing for our plane to land safely. We were grounded for a few hours until the haze over our destination, Pangkalan Bun, had lifted just enough to permit landing. As I got off the plane, I was greeted by an intense smell of burnt wood. The smoke and fog made for an almost eerie setting. Driving from the airport to the village of Pasir Panjang where I am staying was like driving through a cloud. It was difficult to see further than a couple hundred meters in front of us. I got settled in my home stay, a cute little house off the main road, and went straight to bed. The next day was going to be my first of an orientation period at the Care Centre so I wanted to be well rested.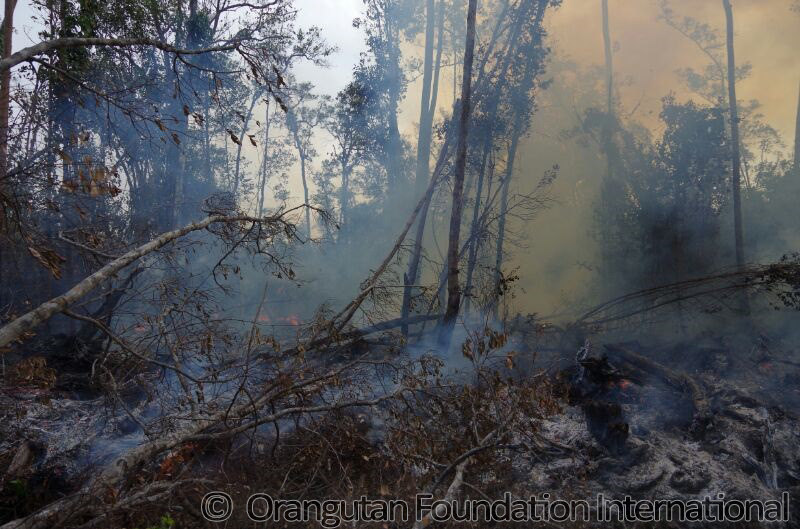 The following morning, I set off to the Care Center excited and full of anticipation. A new adventure was about to begin. Upon arrival, I was introduced to the very friendly and welcoming staff and immediately got to work. I helped prepare enrichment for the 320 orphan orangutans currently at the Care Centre. The enrichment consists of parcels made from natural items and containing food to stimulate the orangutans and teach them skills they will require when released in the wild. In the afternoon, we brought those treats to the different facilities in the surrounding forest where the orangutan sleeping enclosures are situated, along with fresh fruits and milk. The orangutans seemed very curious and intrigued by this newcomer they had never seen before but eagerly held out their hands to receive their parcels. It was interesting to see how each of them handled the package they received, some tearing it with their teeth, others opening it delicately and with caution.
On my second day, I was lucky enough to be present when they released the young orangutans in the forest for their daily play session. I only stayed for 5 minutes but still had two juveniles climb in my arms. They pried themselves up by holding on to my clothes and using their long arms to hang on to my neck. I was surprised and pleased at their instant warmth towards me. Orangutans infants in the wild spend most of their time clinging to their mother. It is an innate behavior. That is why the orphans at the Care Centre embrace their caregivers with such affection.
Walking back to my home stay that evening, I stopped on the wooden pathway to listen to the sounds of the rainforest. It was surprisingly loud with the buzzing and trilling of insects and small reptiles. Every so often, birds would join the mix and the result was a cacophony of life. Yet it still felt very peaceful. I was far away from my native Canadian Boreal forest but I still had the same sense of serenity that overtakes me when I stroll through that familiar woodland. To think that this majestic and lively ecosystem is burning to the ground saddens me deeply.
The rest of my week was occupied by providing enrichment to the orangutans as well as the macaques and Malay Sun Bears that have been rescued and brought to the OCCQ. They are currently being cared for at by OFI until they can safely be released back into the wild. I also took part in the mending of one of the playgrounds where the young orangutans are released.
It was a busy and amazing week, full of new experiences and challenges. The coming months will certainly be interesting ones. I can't wait to see what next week brings but I hope some of it will be rain!