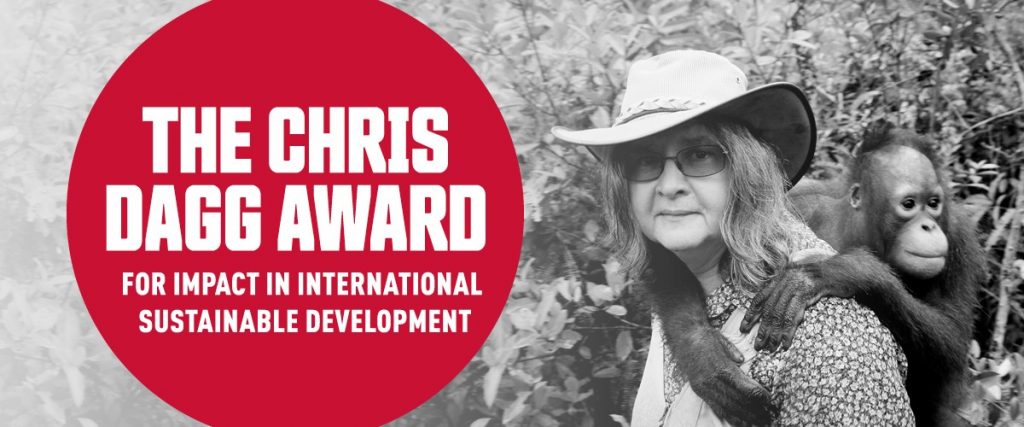 Dr. Biruté Mary Galdikas has been awarded the Chris Dagg Award for Impact in International Sustainable Development for 2021. 
Our President, founder, and the world's leading authority on orangutans is being recognized by Simon Fraser University for her contributions to international sustainable development. Having spent more than 50 years in the forests of Borneo she knows more than a thing or two about how to help save orangutans and the rainforest. For more than half a century she has helped orchestrate international efforts to save orangutans through the OFI charities, worked with local government and forestry officials to help protect and save the rainforest, and collaborated with the local Dayak communities to help preserve orangutan habitat and reforest impacted areas. 
Half a century of research has led her to new sustainable ways to preserve orangutan habitat, enabled her to find people and organizations to help, and a message that she can share across the world to motivate people to change.
"Dr. Galdikas' lifetime of dedication has created a whole community and now generational movement in Indonesia working to save orangutans and the rainforest. Having her … has inspired so many of us… to be the best… we can for orangutans and our planet."  – Ruth Linsky
We at OFICanada are beyond thrilled that she is being recognized for her work and contributions. She inspires so many to want to help save orangutans and their rainforest home. One of the biggest threats to orangutans is habitat loss (which has for the last 20 years been mostly due to palm oil plantations). She is the catalyst for change in peoples lives and every positive change helps save orangutans and their home. 
"I became a researcher to study orangutans, and I soon learned you can't ignore the habitat that sustains them," she says. "In order to keep the species… from irreparable harm, we need to understand that connection to nature. I've made it my life's work, and will continue as long as I can." – Dr. Biruté Mary Galdikas
Congratulations, Dr. Biruté, from all of us at OFICanada, those that you've inspired, and those that you've spurred on to change and actively fight to save orangutans, forests, and our planet.
For more information see https://www.sfu.ca/sfunews/stories/2021/03/global-authority-on-orangutans-marks-50-years-in-the-field–awar.html
and https://www.sfu.ca/international/index/Chris_Dagg_Award.html