As a young girl, Biruté Mary Galdikas had a dream that she would go to the forests of Southeast Asia and study the least-known of all the great apes, the elusive Asian orangutan. As a graduate student at UCLA, she approached Louis Leakey and he promised to help her. After almost three years of waiting, finally in September 1971, Biruté set out for Indonesia and initiated the longest continuous study of any wild orangutan population in the history of science. Her dream finally became a reality.
During the initial journey to Indonesian Borneo in 1971 Biruté visited Jane Goodall at her chimpanzee study site in Africa's Gombe National Park. Jane Goodall, Diane Fossey and Biruté all shared a common mentor in Louis Leakey and were later termed the "Trimates." After visiting Louis in Nairobi, Biruté said goodbye to him for what would be the last time. On November 6th 1971 Biruté and her then husband Rod Brindamour finally arrived in what later became Tanjung Puting National Park. It was within the first few weeks of her arrival at Camp Leakey, named in honor of her mentor, that she began the groundbreaking conservation and research work that continues to this day 50 years later.
50 Years in the Field
1970

1980

1990

2000

2010

2021
November 1971
Arrival in Eden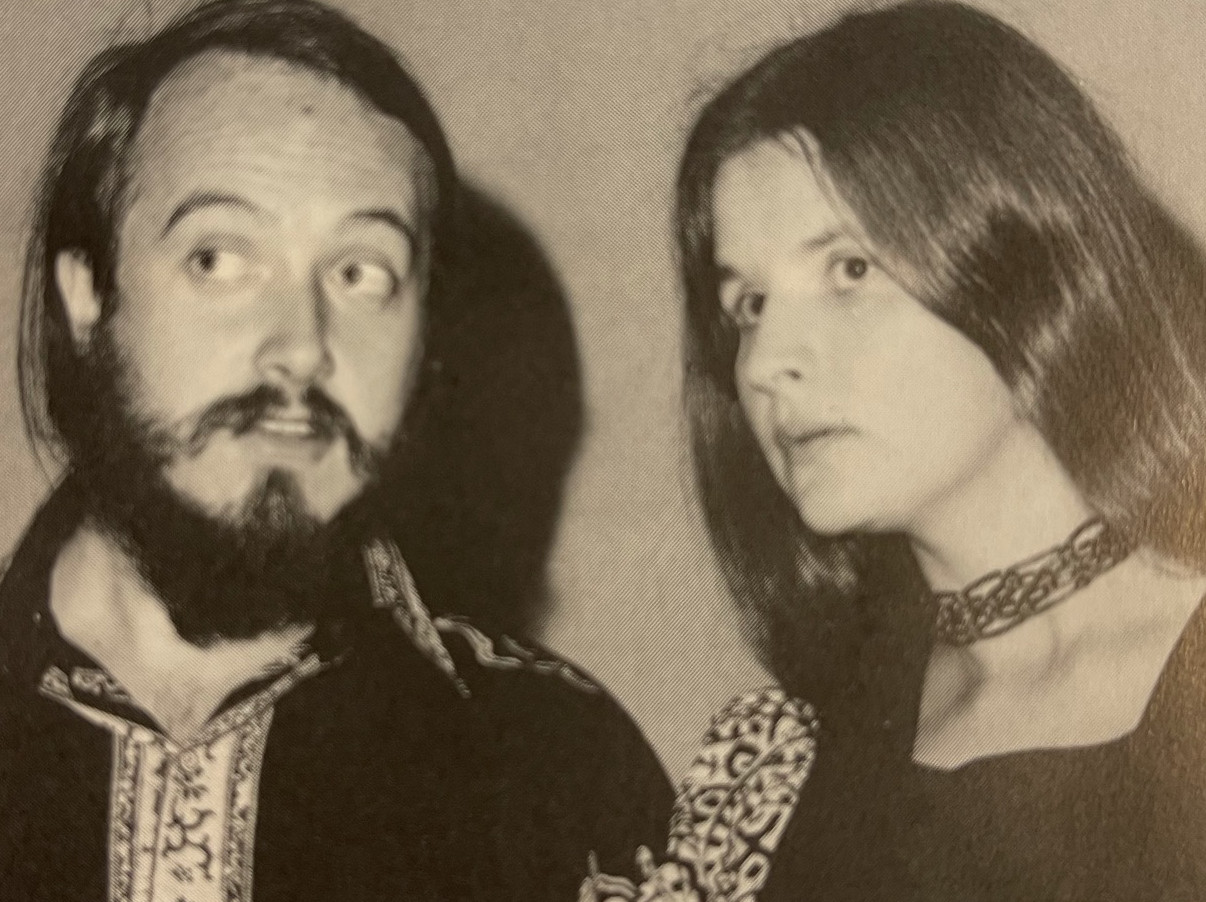 Biruté Mary Galdikas and Rod Brindamour arrived at what became Camp Leakey after a full day's boat journey up the Sekonyer River. They were accompanied by three Indonesian government officials and a local cook.
Early Days in the Forest
"The 1970s were spent in the forest with wild orangutans. Every day I would get up early and go into the forest, either by myself or…..
THE FIRST LADY: AKMAD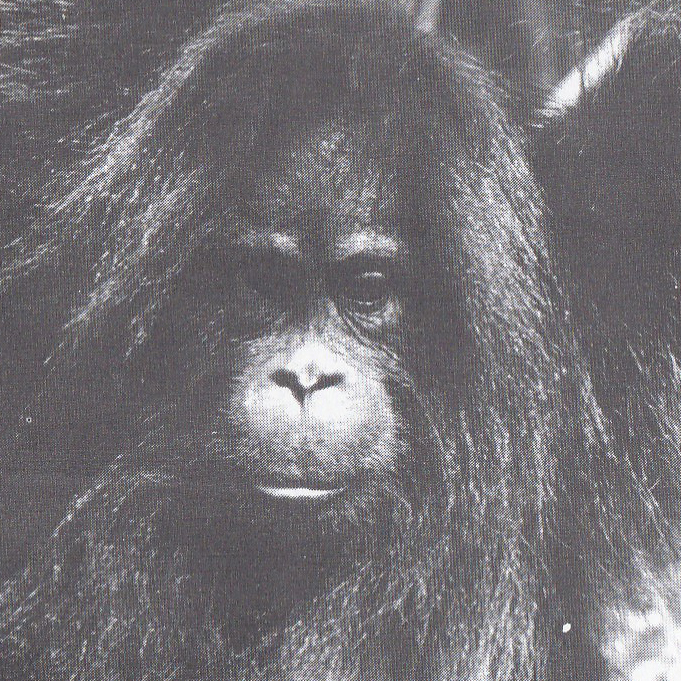 About three weeks after arrival in Borneo, Biruté met the wild born orangutan named Akmad, who had just been captured by illegal loggers in the local area. Biruté's former husband Rod Brindamour and local Forestry officials confiscated Akmad and brought her to Camp Leakey for rehabilitation and safe release.
The Significance of Akmad
"Akmad impacted me not only because she was the first orangutan female whom we rescued but also because of her very genteel and serene nature. She was a wild orangutan who had not been kept in captivity for very long. She was also a local girl in the sense that she was captured by illegal loggers within the Sekonyer River area. " READ MORE
- Biruté Mary Galdikas
Christmas Day (Dec 25th) 1971
Beth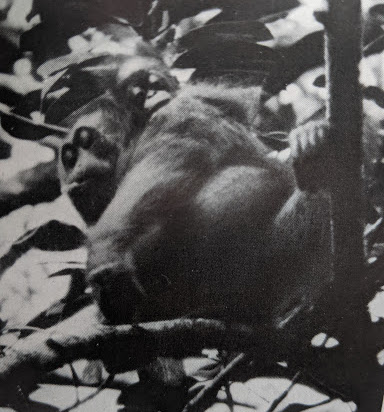 After almost two months of working in the Camp Leakey study area, Biruté successfully followed a wild orangutan, Beth, and her infant Bert for five days straight. This was the first time that Biruté was able to arrive at the night nest of a wild orangutan whom she had located the previous day before the orangutan left the nest the following morning. This was a first major success in her wild orangutan research because it indicated that orangutans could be observed for more than just one day at a time.
Early Encounters with Wild Orangutans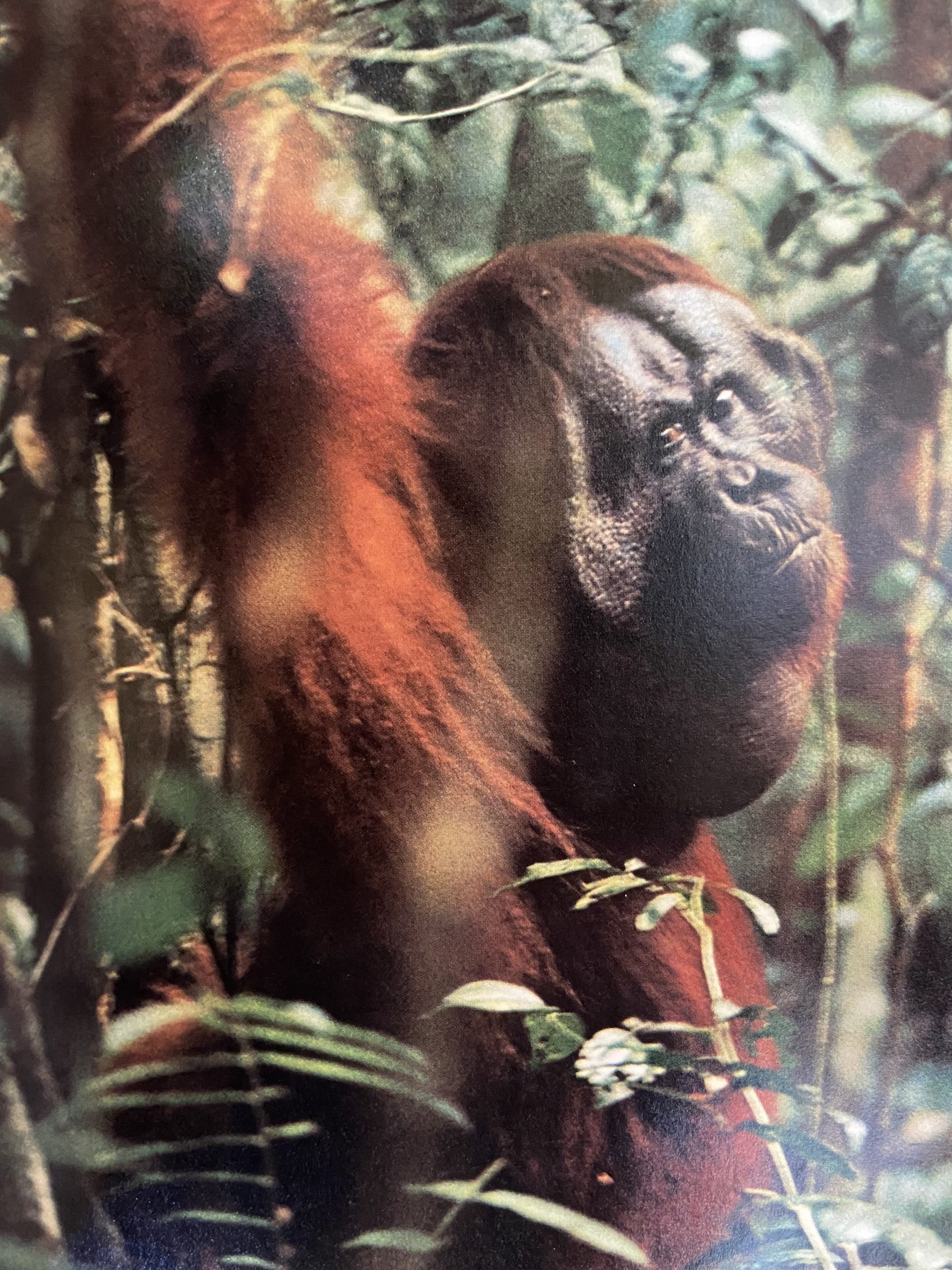 "The early encounters with wild orangutans seemed surreal. I found it hard to believe that I was actually in the Borneo forest observing wild orangutans. When following wild orangutans by myself it was possible to have interactions that could not be duplicated in the presence of other people.…..
Hunger in the Forest
"The humidity was unbearable. The heat was unbearable. The sweat just poured and the fat seemingly melted out of my pores. I became very thin. I was hungry most of the time but I was so afraid of …..
1974
First Indonesian Students
Biruté welcomed her first Indonesian students from the Faculty of Biology at Universitas Nasional, Jakarta in 1974. The students began data collection under Biruté's supervision for their "Sarjana" theses which are the equivalent of an honors undergraduate degree. Later, Forestry Department students from Universitas Gadjah Mada in Yogyakarta joined the Camp Leakey research team for six months at a time. Over the years Biruté supervised well over one hundred Indonesian students, a number of whom went on to get their PhDs in North America, Australia or Europe as well as Indonesia. Some of her students became influential conservationists and scholars as well as government officials.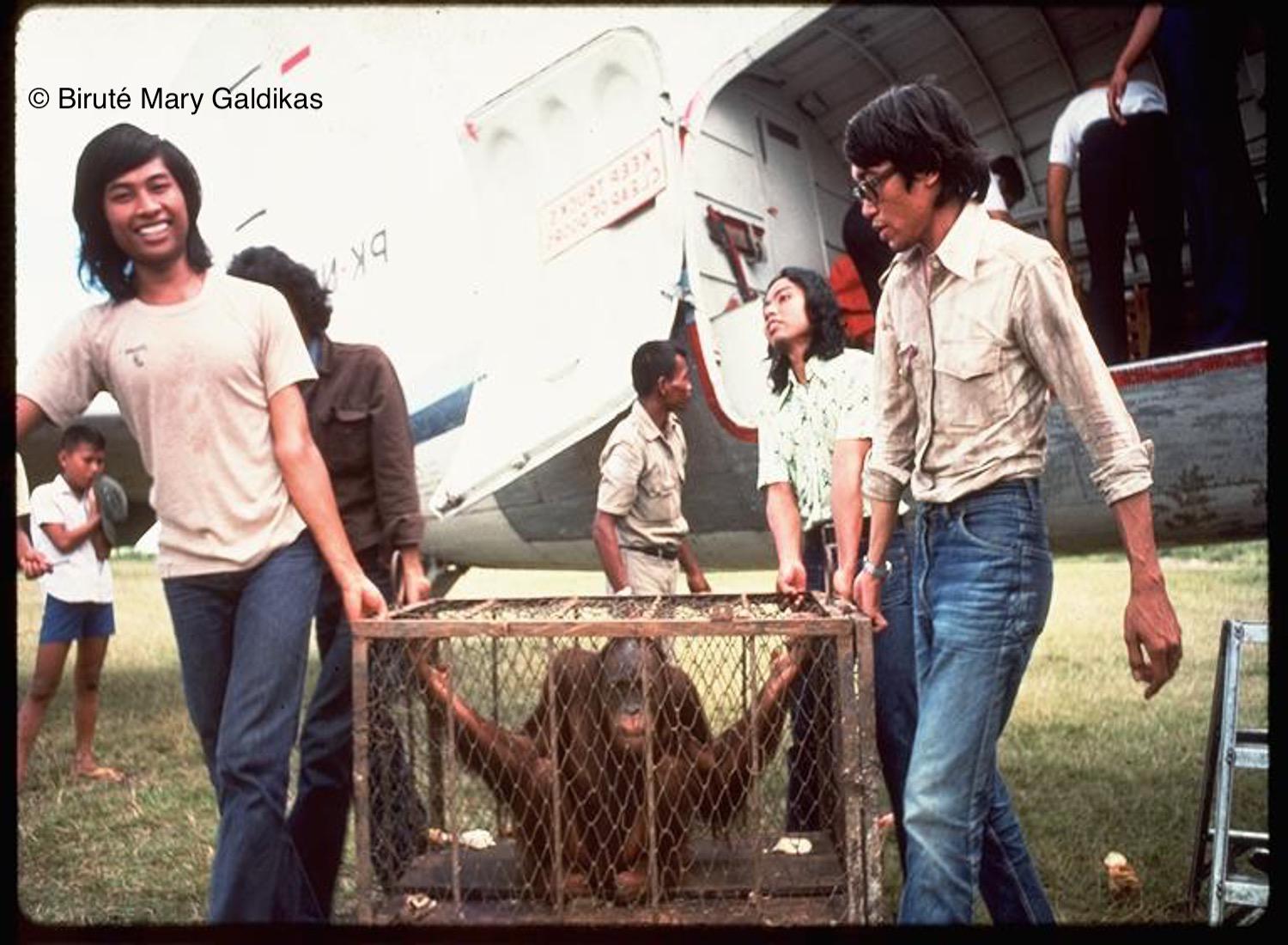 Born to Study Orangutans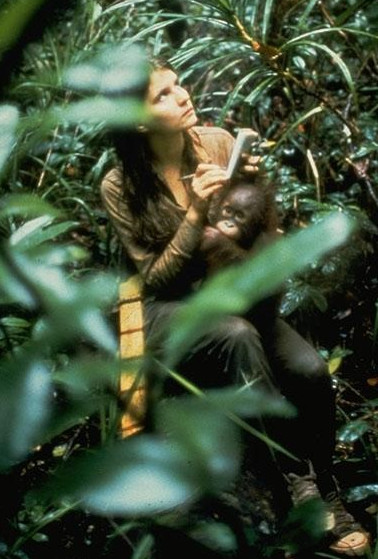 "I was born to study orangutans because they, like me, are of the great forest."
- Biruté Mary Galdikas
October 1975
National Geographic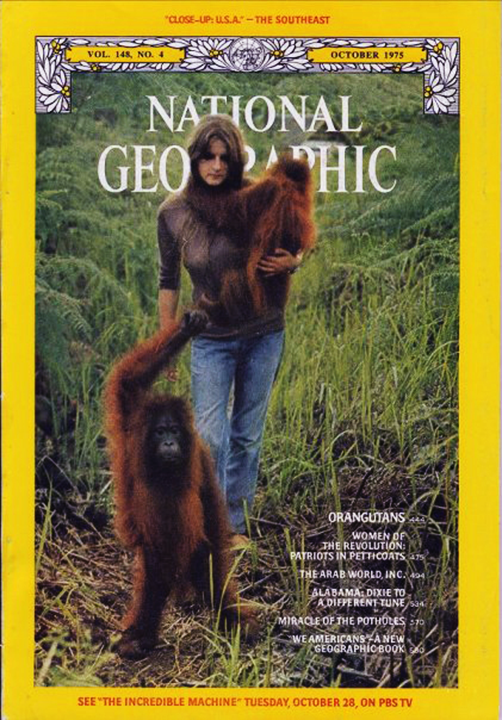 Biruté Galdikas, "Orangutans: Indonesia's People of the Forest," National Geographic - This iconic image was featured on the cover of a National Geographic issue containing a story written by Biruté with Camp Leakey photos and the surrounding forest taken by Rod Brindamour. The 1975 cover, which was actually taken in 1973, included Akmad standing in front of Biruté as they walked on a trail to the forest while Biruté held a smaller orangutan. By the mid-70s Biruté had taken care of and rehabilitated dozens of wild born ex-captive orangutans, many of whom "released" themselves and went back to the forest on their own. Others would sometimes go back to the forest for a year or two and then abruptly appear back in camp, sometimes to stay for a long period of time. Other ex-captives came just for a short visit. Akmad was one of the individuals who returned. She was gone several times, once for over a year, before she returned to stay in the vicinity of Camp Leakey. The infant and small juvenile orangutan orphans stayed with Rod and Biruté in their bark-walled hut and went out each day with Biruté when she woke up, had breakfast, and left the hut. She had to stay in the adjacent forest and woodlands because as soon as she went back to the hut, all the orangutans would follow her and wreck the hut. There were no cages or sleeping enclosures. Some of the orangutan orphans would stay the night in nests they had made in nearby trees. Camp Leakey was an oasis of peace and calm for the wild born ex-captive orangutans because human activity had not yet penetrated very much in the area.
1976
Binti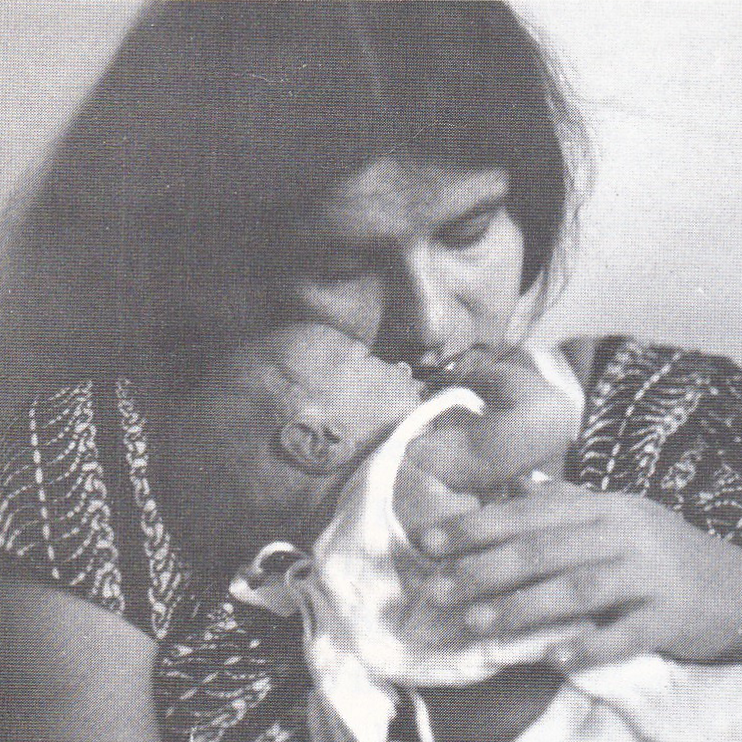 Biruté and Rod's son Binti Brindamour was born. Binti spent the first years of his life at Camp Leakey with his parents and the orangutans.
1977-78
Princess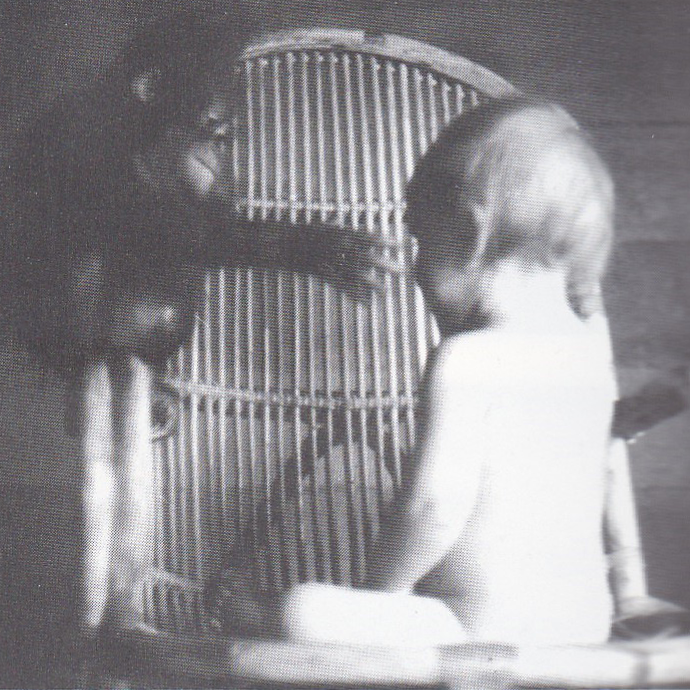 Orangutan Princess arrived in Camp Leakey. She was about a year old at arrival and made friends with the other infant orangutans at Camp as well as Binti. Biruté worked with then-graduate student Gary Shapiro who was teaching American Sign Language (ASL) to wild born ex-captive orangutans from 1978-1980. Princess became famous for her intelligence and ASL communication skills.
1978
A Culmination of Effort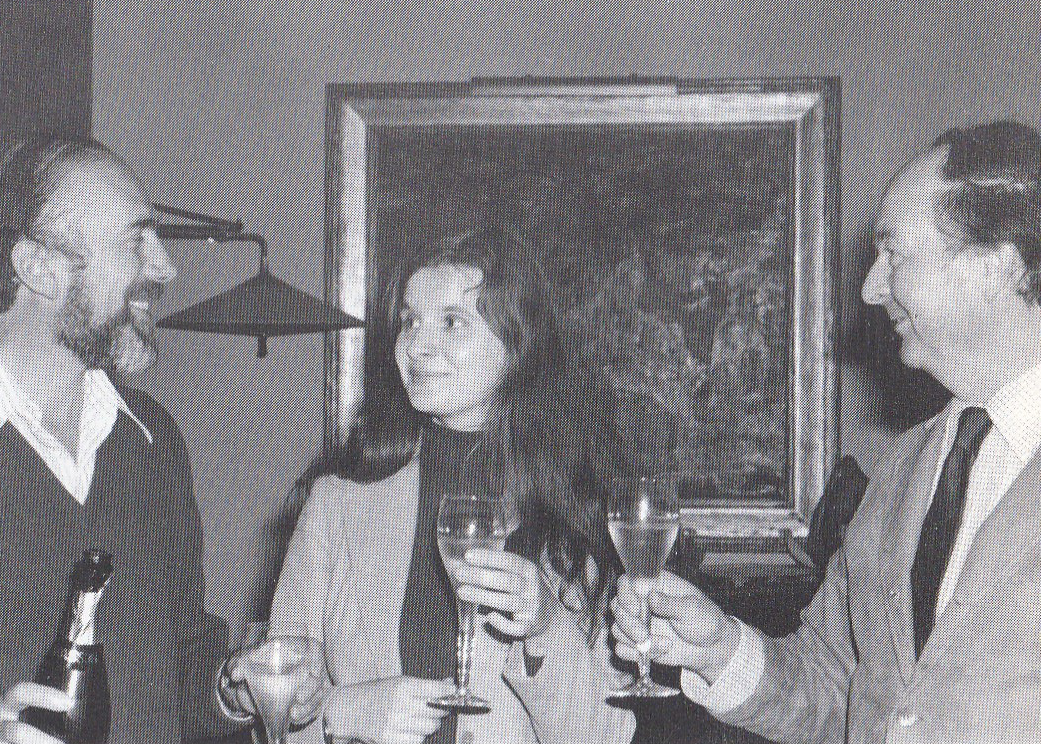 Dr. Galdikas was awarded a Doctorate of Anthropology from UCLA. Her PhD Thesis Dissertation titled ORANGUTAN ADAPTATION AT TANJUNG PUTING RESERVE, CENTRAL BORNEO was published.
Living in Eden
"At the end of the 1970s, after seven and a half years, my former husband Rod Brindamour left Borneo because he wanted to continue his education in North America. Overall the memories of my experience of the 1970s were of a peaceful, even magical world. It was still an undisturbed, primeval world that resembled that resembled a Garden of Eden. The local people practiced some illegal logging but ...
1978
Scientific Prestige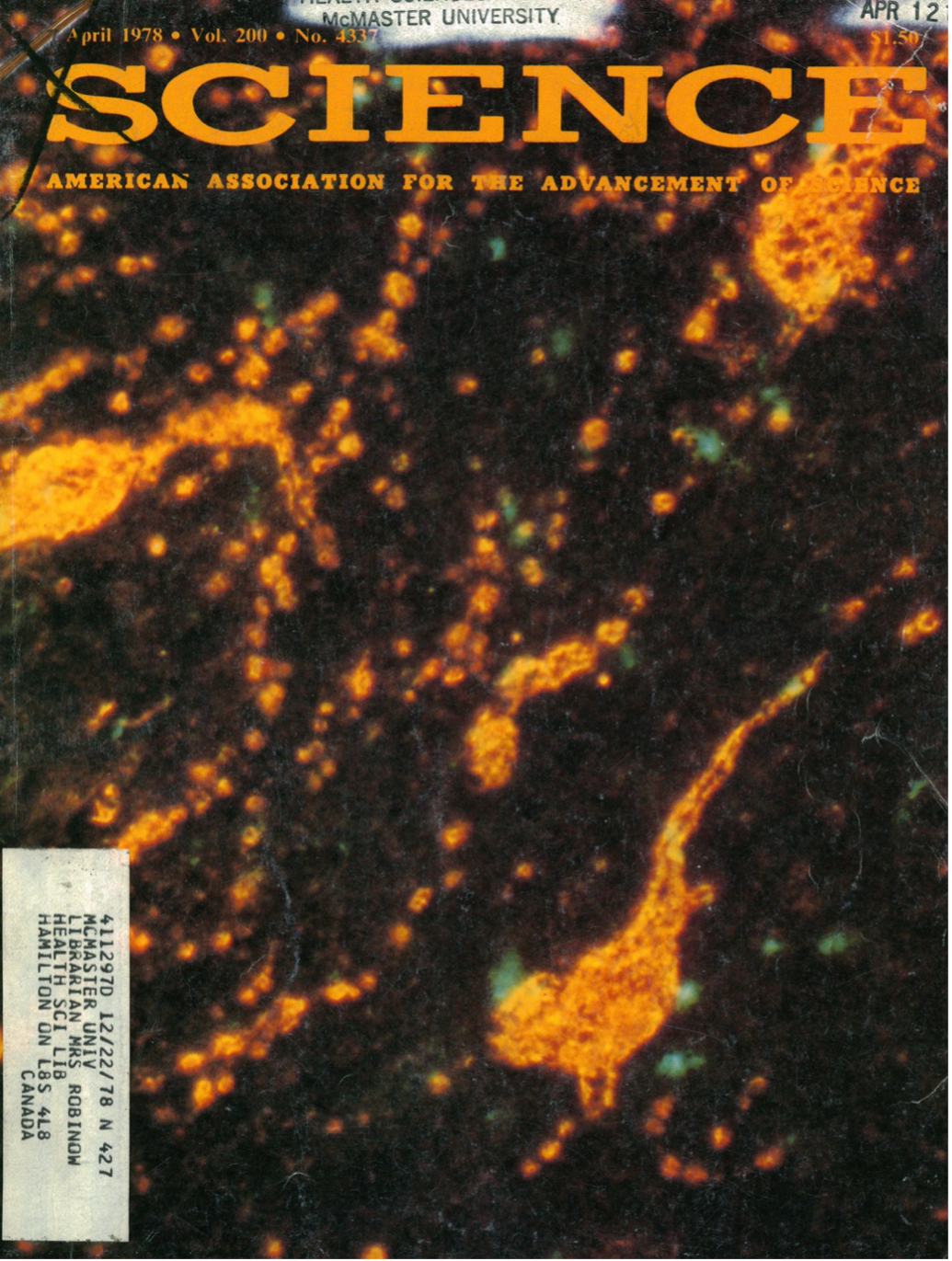 Dr. Biruté published her first primatological research article in the journal Science, one of the most well-respected peer-reviewed scientific journals in the world to this day. The article, titled "Orangutan Death and Scavenging by Pigs," described evidence of Bornean bearded pigs scavenging on orangutan carcasses and explored the implications of these findings on what we know about ape fossil records.