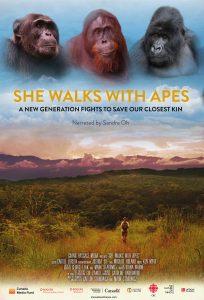 We are exited to announce the upcoming Nature of Things documentary, "SHE WALKS WITH APES", which is being broadcast on CBC TV FRIDAY SEPT 20 at 8pm local time (8:30 NT). Also, if you are in the Toronto area, we invite you to attend to the FREE pre-broadcast theatrical premiere, a couple of days earlier, details follow below.
Please help us support Nature of Things documentaries by sharing this news with your friends, office or school colleagues, alerting them to the broadcast and also the free Toronto screening.
ABOUT "SHE WALKS WITH APES"
SHE WALKS WITH APES features the world's foremost expert on chimpanzees, Jane Goodall, and is narrated by two-time Golden Globe Award winner, Canadian actress, Sandra Oh (Killing Eve). It tells the remarkable story of the "Trimates;" three pioneering women who went into the jungles of Africa and Borneo to live with humanity's closest cousins, the Great Apes. Filmed in stunning 4K, the documentary is a fresh take on Jane Goodall's early years living with the chimpanzees, and also reveals rarely seen images of Dian Fossey, the legendary scientist who was murdered while working with the mountain gorillas of Rwanda. SHE WALKS WITH APES also gives due credit to the third pioneering woman, and OFICanada President, Canadian Biruté Galdikas, who went to live among the orangutans of Borneo 50 years ago and is still there today.  All three women made history and became pioneers of the global conservation movement today. The film also goes beyond legend and follows a new generation of young women including two Canadians, Julia Badescu and Ruth Linsky (OFICanada Board Member and student of Dr. Galdikas'), and Rwandan Nadia Niyonizeye, who were so inspired by these trailblazers that they decided to follow in their footsteps, and live among the Great Apes.
FREE  TORONTO THEATRICAL ADVANCE SCREENING:
If you are in or near Toronto, we invite you to our FREE premiere screening, two days before the broadcast, where you can experience the film in super high definition and surround sound. (Green P parking available and also it's on the TTC in lively Little Italy. Limited seating, book it fast.)
Meet Julia Badescu, who is featured in the film among the chimpanzees of Uganda, and who will answer your questions following the film.
When: Wednesday, September 18
Where: The Royal Cinema – 608 College St, Toronto, ON M6G 1B4 (click HERE for map)
Doors open: 7:00 pm
Screening: 7:30 pm – 9:00 pm
Q&A: 9:00 pm – 9:30 pm
TICKETS LINK: http://theroyal.to/movies/she-walks-with-apes/
BROADCAST: Friday, Sept 20 at 8pm local time (8:30 NT)
This is a special feature-length broadcast that launches the new season of The Nature of Things.
The program airs across the country at 8:00 local, 8:30 Newfoundland and will also stream on CBC GEM.
 WATCH THE TRAILER: