OFI Canada is thrilled to announce the opening of a new incredible field based volunteer position for Canadians.
We are now accepting applications for the OFI Canadian Field Correspondent!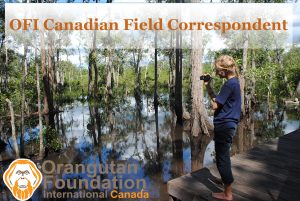 This is a unique opportunity for Canadian writers, photographers, conservationists, communications experts and budding or experienced journalists to become intimately involved in all of OFI and OFICanada's field operations in Borneo. If you are passionate about bringing words to action and education or outreach this position is for you! You will work directly with Indonesian field staff observing the orangutans and other exciting activities going on in Borneo while being the critical link to donors and public back home in Canada and around the world.
Are you detail oriented and love the outdoors? Are you looking for a way into the science communications or conservation outreach field? Have you always wanted to volunteer your professional skills for conservation purposes? Do you love orangutans or the rainforest? Are you looking for a break from cold Canadian winters?
or
Contact us at admin@orangutancanada.ca or ofivolunteer@gmail.com with questions.